Are you selling your products online? You might have observed a sudden peak in your website traffic at some time. Haven't you?
Do you remember Flipkart's first big billion days tragedy? The website went down as it couldn't handle traffic during on its big billion day sale. This is what happens when your server isn't ready to handle sudden high-traffic.
At such times, you need a reliable web hosting provider that will not let you down on your face.
Not all providers of cheap web hosting are capable of providing highly reliable servers that will keep your website up and running all the time. But with MilesWeb business hosting, you can keep all these worries aside and host your website which experiences high traffic.
MilesWeb business hosting plan is specially designed by keeping all this scenario in mind. It is combined with security-rich features and hosting bundled together in one package.
Why a business hosting plan is suitable for heavy traffic websites?
Cloud infrastructure:
A regular shared server contributes to the same server resources with other websites. Even if a single website receives traffic spike, it may affect your website performance as well.
MilesWeb business hosting plan utilizes a cloud hosting server for hosting your business website. In which the server resources are scattered among more than one server that acts as a single server known as- the cloud. These server resources are utilized as per the demand of the website. Resulting in fewer chances of any downtime to your site.
Website backup in the cloud:
Be rest assured knowing that your website, database and emails will be backed up regularly on their cloud. You can restore this data with just a single click at any point of time.
Website security– based on the cloud:
To safeguard your website from any potential web attacks, MilesWeb continuously monitors all your incoming and outgoing website traffic. Their web application firewall identifies any malicious activities or vulnerabilities before it affects your website.
Email protection:
Each and every incoming email is watched for spam or phishing and stopped before it reaches your inbox. All your email accounts will remain secure once you host your website with them.
cPanel:
You can easily manage all the aspects of your website such as FTP, mail accounts, domain name, databases and more through a single web-based control panel. This doesn't require you to have any technical skills.
SSD server:
Your webpage will load quickly as all your website data will be stored on their SSD server. They use less energy than mechanical hard disks and thus provide faster page load speed.
SSL certificate:
Protect all your confidential data with digital certificate such as Let's Encrypt SSL. All the data transferred between the visitor's browser and the server will be kept absolutely secure making your website trusted.
What all is included in MilesWeb business hosting?
As mentioned earlier, MilesWeb business hosting plan is combined with all features of hosting and security together. Thus, it includes the following features:
   Amazon Cloud Platform

   Unlimited SSD Web Space & Bandwidth

   SECURE IMAP/POP3 E-mail Accounts

   Host 1 Website

   Free SSL Certificate

   cPanel & 1-Click Script Installs

   4 CPU & 4 GB RAM

   FREE Website Transfer Service

   24/7/365 Expert Tech Support

   On-demand Backup & Restore

   99.95% Uptime

   DDoS & WAF Protection

   30 Day Money Back Guarantee

   WP-CLI & Git
You get all the above features at Rs.2100/mo. With the current discount of 20% on this plan, you can avail all the features just at Rs.1680/mo. To avail this offer you can use a coupon code as: AWSCLD.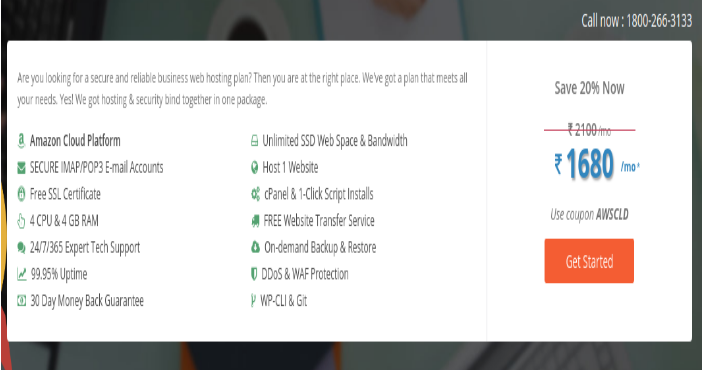 MilesWeb has its datacenters in India, UK and US. You can choose the one nearest to your target audience.
Why MilesWeb?
MilesWeb assures you an uptime of 99.95% because their servers are completely optimized to provide you the best uptime. Their server utilizes Tier-3 and Tier-4 data centers which exceed capacities of tier-1 and 2 data centers.
30 days money back guarantee
After buying a business hosting plan if, somehow you are not completely satisfied with their hosting service you can ask for a refund. You can claim for refund within 30-days of your purchase.
While using their hosting service, you need any kind of technical assistance you can contact their technical support directly via live chat, phone or email. They are available round the clock for resolving your technical issues.  
Conclusion:
If you want to host a basic website with moderate traffic then shared hosting is adequate but if your website is expecting a huge traffic then you can either choose a VPS server or business hosting, VPS server is suitable if you need to have root SSH access to your server. Else, business hosting is mostly recommended for your high-traffic website.
You get highly powerful, secure and scalable hosting all under one single package.